Probiotic Foods sits on retail shelves across every state and territory of Australia, and a strong seller in rural areas. We asked health food stores, sports shops and health practitioners around the nation what they say to encourage their customers to try Probiotic Foods. We received great feedback to share with you.
---
"The gut is the brain. When you look after your gut you feel sharper, more focused and less fuzzy. We explain the gut brain connection to our customers and they get it."
—
Kahn, Mass Nutrition, Mackay
"We get obsessed about probiotics and forget that prebiotics are equally, if not more, important. Knowing that both are present in Probiotic Foods switched me onto the product."
—
Sara, Naturopath specialising in Gut Health, Newcastle
"It's on the counter and once we talk about allergies, immune system and probiotics, customers make the link with the gut and are ready to buy."
—
Lorenzzo, Nature's Health Traralgon
"Customers get the natural bacteria from fermented food which is so much better than synthetic strains."
—
Emmeline, Health and Harmony Wholefoods, Rockhampton
"Fixing your gut bacteria can fix sugar cravings, no more chocolate binges."
—
Sharon, Ormeau
THE CHEAT SHEET
We gathered all these tips and created a cheat sheet to make it easier to talk about Probiotic Foods. Naturally, when you have experienced the benefits first hand, or have heard Don Chisholm, a.k.a. The Gut Man, speak, it's easy to talk about it! But if you are new to the range, here are top tips on moving Probiotic Foods off the shelf. Download the cheat sheet here, print and keep at the counter.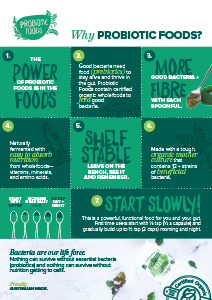 The power of Probiotic Foods is in the foods.
Good bacteria need food (prebiotics) to stay alive and thrive in the gut. Probiotic Foods contain certified organic wholefoods to feed good bacteria.
More good bacteria and fibre with each spoonful.
Naturally fermented with easy to absorb nutrition from wholefoods—vitamins minerals, and amino acids.
Shelf stable. Leave on the bench—so it's easy to see and remember to take.
Made with a tough organic mother culture that contains 12+ strains of beneficial bacteria (view bacteria strains).
Start slowly! This is a powerful functional food for you and your gut. First time users start with ⅛ tsp (½ a capsule) and gradually build up to ½ tsp (2 capsules) morning and night. One container will last you more than a month!
Bacteria are our life force. Nothing can survive without essential bacteria (probiotics) and nothing can survive without nutrition getting to cells. Many health shops ask their customers to share some of their symptoms to help them decide whether they could benefit from Probiotic Foods. Here are some quick prompters:
How do you digest? Do you feel heavy, bloated, with irregular bowels or heartburn?
What is your energy like? Feeling tired, sluggish, craving sugar?
Do you often feel moody, irritable, fuzzy in the head?
Offering the Day 1 / Day 30 Self-Check Questionnaire to your customers helps them their health progress, gives great feedback and supports repeat sales (download here.) Don't forget you can always call the Gut Help Hotline Mon-Fri 9-5pm (07) 5549 3340.
Please share your tops tips and experiences with us. We love your passion for Probiotic Foods!
---
Medical disclaimer: This blog pro­vides gen­eral infor­ma­tion and dis­cus­sion about gut health and related sub­jects. Whilst every effort is made to present up to date information, the area of gut health and the microbiome are changing constantly. We welcome any comments or suggestions. By reading this blog, you agree not to use this blog as a substitute for medical advice to treat any medical condition in either yourself or others. The author encourages you to consult a health professional before making any health changes, especially any changes related to a specific diagnosis or condition. No information contained in these pages should be relied upon to determine diet, make a medical diagnosis, or determine treatment for a medical condition. The information is not intended to replace a one-on-one relationship with a qualified healthcare professional and is not intended as medical advice. Links to other ("third party") web sites are pro­vided to you to expand understanding of the subject and are not an endorsement or rec­om­men­da­tion by the author for the ser­vices, infor­ma­tion, opin­ion or any other con­tent on the site or as an indi­ca­tion of any affil­i­a­tion, spon­sor­ship or endorse­ment of such third party web sites. Your use of other web­sites is sub­ject to the terms of use for such sites. By reading this blog, you agree that you are responsible for your own health decisions. NO information contained in this blog should be used to diagnose, treat, prevent or cure any disease or condition.The contents of these blogs are copyright and available to wholesale partners for free. We encourage you to share with your team and customers on the basis that "Probiotic Foods Australia" is the acknowledged author within the actual media that the blog is reproduced.